Summer Camp
June 22 - September 3, 2020
---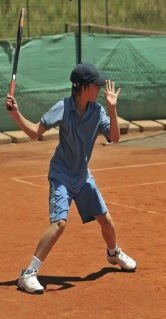 Camp Features:
Monday through Thursday: 8:30 - 11:30.
4:1 to kid/staff ratio.
Camp is designed for all ability levels.
Age 5-16.
Combination of instruction & match play.
Snacks will be provided.
Covid 19 Guidelines:
Temperature will be taken each day upon arrival.
Bring your own equipment and water bottles.
Children and parents should wear mask during drop off and pick up.
Parents should keep children home if they have a temperature or cold/flu symptoms. Any child who has been exposed to a person showing symptoms or diagnosed with Covid-19 should be kept home for 14 days.
Price:
---
Beginning Sunday June 21, 2020
Children & Parent 2 Night Mid-Week Programs $295/child
(see website for adult prices which depend on room selection)
Players 6-16 years old will play in the Junior Program.
Teens 17 -19 will play in the Adult Program.

Check-in Sunday 6 PM; dinner served at 7 PM
Monday and Tuesday Schedule:
Breakfast served at 7:30 AM
Tennis instruction 8:30 – 11:30 AM
Family lunch 11:45 AM – 1 PM
Adult afternoon Tennis 1 – 2:00 PM
Junior Program afternoon activities – tennis, games
Adult participants receive a half hour private lesson
Guests must supply their own tennis balls for free play
Check-out 4 PM Tuesday afternoon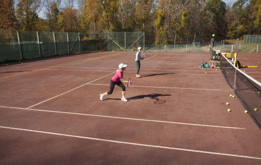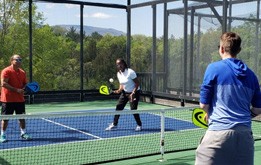 Beginning Friday June 26, 2020 we will offer
Children & Parent 2 Night Weekend
Tennis & Pickleball Programs $395/child
(see website for Adult prices which depend on room selection)

Check-in Friday 5 PM; dinner served at 7:30 PM
All members of the same family will share the same court
4 hours of group instruction; adults receive half hour private lesson
Saturday and Sunday Schedule:
Breakfast served at 7:30 AM
Tennis instruction 8:30 – 11:30 AM
Family lunch 11:45 – 1 PM
Afternoon instruction 1 – 2 PM
Adult participants receive a half hour private lesson
Guests must supply their own tennis balls for free play.
Check-out 4 PM Sunday afternoon